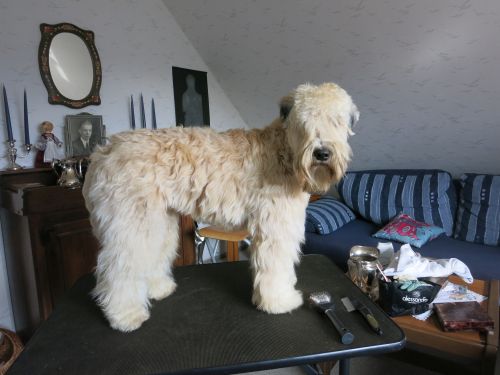 Whaaaaaaaat? A bath? I'm not dirty! Ah, shucks. Brush, brush, comb, comb. Well at least I got a "Wanna go bye-bye?" out of it.
Aha! We arrived at my ex-Mummy and ex-Daddy's house and I tried to get my mother Holly to play with me while Mummy cuddled with Baby Mokka and the humans had coffee. Then I had to get up on their grooming table. I had just got off mine! For 2 ½ hours ex-Mummy and ex-Daddy scissored all over me.
Then we went out into the road and I had to show my best gait with Mummy and stack for Mummy and ex-Daddy Joachim. Look at the difference. He is the professional!
Back at home, Mummy had to practice for the shows again and again and I was her equipment. On Tuesday we jumped in the car and got out at the airport. Another slippery floor but when I remembered not to pull, it went fine. My folks had coffee across from the arrivals doors. The waitress gave me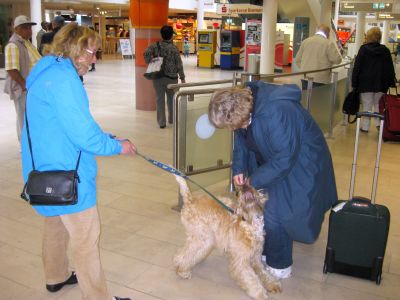 an unfinished sandwich from the next table; now THAT was a good idea! When I was finished, we stood at the door, watching for Auntie Sarabeth. I gave her a good greeting when she came through. She has come for 3 weeks from Minnesota to meet me, accompany me to my two shows, repair all the stuffed toys I chewed up and to cuddle with me and go on my walks and take photos and videos at my dog schools. She brought me some cool snacks called Oinks.
Next day Mummy and I took Aunt Sarabeth shopping. I showed her the bank, the yarn and sewing goods store, my girlfriend Roxy's jewelry store and Birkenstock, where I got a lovely greeting from the proprietress. Last, we met Daddy at the optician's. We had just explained what my aunt needed when a lady came in with her teenage grandson and said she had seen us enter the store; she HAD to see me up close! I flirted and showed myself from my best side with my smart show haircut. Mummy sang my praises and described the advantages of the Wheaten Terrier. The lady ooohed and aaaaahed over me. Meanwhile Daddy translated for Aunt Sarabeth and the opticians dug up their best English. Finally my fan club broke up, Mummy having written the website of my kennel on the back of one of my calling cards; ex-Mummy and ex-Daddy had one puppy left from the litter after mine. Her name is Mokka and she is 11 weeks old. Back to getting new glasses for Aunt Sarabeth and Daddy. Suddenly the lady was back with two more people, who she felt needed to see me, too. One was her daughter Petra. Again I had to blush due to the enthusiasm. They had already found the website on grandson Nick's smart phone. Mummy wondered how the opticians felt about these Wheaten negotiations in their store, but then the lady's daughter decided to get new glasses while there!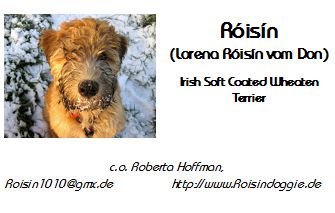 The next noon the phone rang and it was the lady who fell in love with me at the optician's. The family had gone to the kennel right away and fallen in love with Mokka, who will move in with them next Tuesday after her next shots. We will get together very soon after that and I will teach her what she needs to know about winning people over and making your folks happy and proud. I am a specialist in PR, Wheaten ambassador.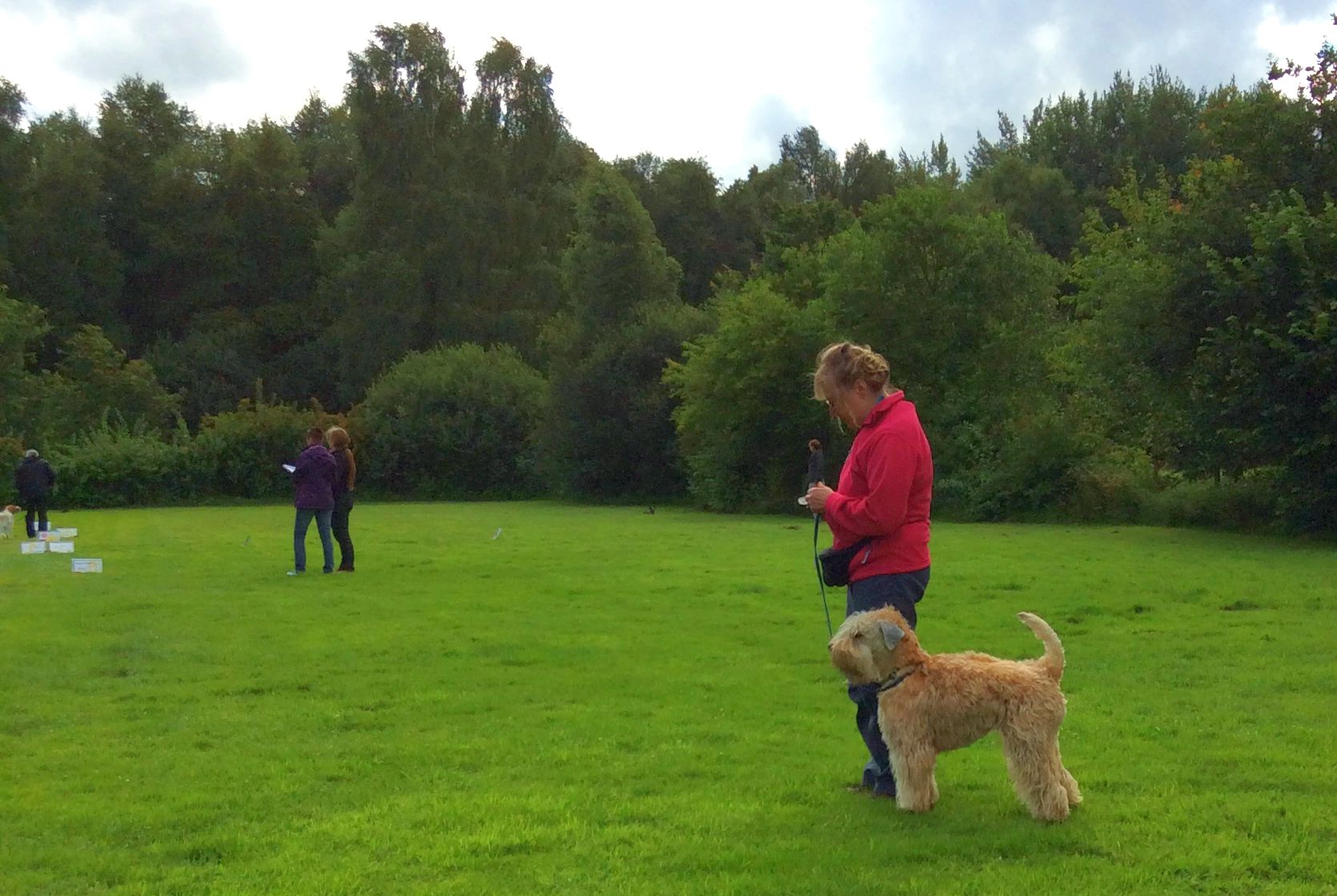 That afternoon we went to Rally training. Trainer Ela said with my new haircut I looked so grown up, like a 12-year-old wearing high heels. So I determined to make some progress on my left turns and did. A bit.
Saturday was my big day: five halls, thousands of canines, even more humans, and I was to present myself to a judge. Mummy threw me out of my crate at 5:00, we left the house at 6:00 and were first in line at the fair halls in Bremen at 7:00. Our hall was still empty so we could set up ringside (grooming table, folding crate, two chairs and diverse bags), then we found out that my turn couldn't be before 12:00. Bah! At least I got used to the noise and commotion gradually, as people and dogs arrived. Late morning a voice spoke between Mummy and Aunt Sarabeth; it was my ex-mummy (breeder) Evelyn. She had come to surprise us, deciding that she couldn't leave us beginners to do it alone. Mummy talked her into taking me into the ring and I was at least as good for Evelyn as for Mummy. The judge was smitten. I got great praise from him and a wonderful report card (vorzüglich = excellent) plus qualifications for both possible championships. Now people are starting to talk about my continuing to be a model.
Evelyn was given a red card, which she passed on to Mummy. Later Mummy discovered that it qualified me to go into the big ring to compete with the Best Youth winners of all the other terrier breeds (27). But Evelyn had gone home, thinking we were successful and finished for the day. Another breeder, Irene, sent us into the big ring, saying, "You can do it." It took ages for the terrier class to be called up and then we were past the point of no return. Mummy entered the ring with me and the moderator talked about Wheatens but only mentioned the other breeds. Mummy noticed the new judge watching me, he also came over and patted me down, as my fluffy hair could be hiding flaws in my "construction". He announced that he would first select six of us and came straight to me as the first. Now Mummy had to set the pace to do the round of the ring, I being the largest breed of the six semi-finalists; that's important to show my lovely gait. Back at the starting point, the judge came straight to Mummy and shook her hand. "Congratulations!" Mummy couldn't believe it and Aunt Sarabeth had a shocked expression; she doesn't understand German but she saw the selection of 6 and the judge congratulating only Mummy.
Terriers are Group 3. We had to wait behind the ring until groups 4-10 were finished so that I could represent the whole terrier group in Best in Show youth. By this time I had been in the halls for 10 hours and my young brain was fried. I was exhausted, hungry, and had to you-know-what. But we couldn't get out at this point and I have never done anything in the house since being housebroken at 10 weeks. So when we finally entered the ring for BIS, I was pulling my head out of the leash and refusing to heel. Needless to say, this last judge was not impressed and I was finished for the day. I came home with 4 victories more than possibly expected and I am being treated as a VIP. Mummy and Aunt Sarabeth bought me my first bully stick. On to Hamburg!