Two weeks after my first success I had quite an entourage for my show in Hamburg. Mummy and Auntie Sarabeth were joined by Daddy and Auntie Uschi. Ex-Daddy and ex-Mummy Joachim und Evelyn came from their camping vacation with their 3 Wheatens, including my mother Holly, who doesn't like me much. Ex-Daddy took me into the ring this time. I got vorzüglich and 1st place again, along with qualifications for both possible championships, which means I'm halfway to youth champion. I didn't win the terrier youth this time; the veteran Wheaten had won in the group before and they're careful to give all the breeds a chance. Doesn't matter; what counts is my report card and my qualifications.
I had to spend a lot of the day on the table so as to get my wet feet dry and look pretty. Now I have a break from the catwalk and can get dirty until October. I have been romping in the woods to celebrate.
Two months later, October: Daddy put wheels under my grooming table so Mummy can pull my stuff on it. I was sick for the first time in my life (kennel cough) so ex-Mummy came here to do my show cut so that I wouldn't infect their 3 dogs. Being under the weather, I was really tired after 2 ½ hours and couldn't hold my back straight and my tail up, but I will next weekend in Hannover!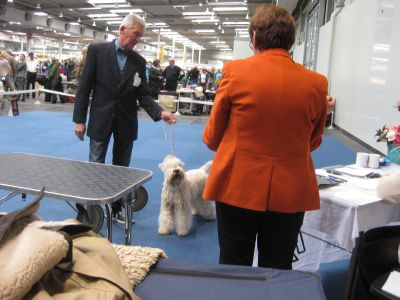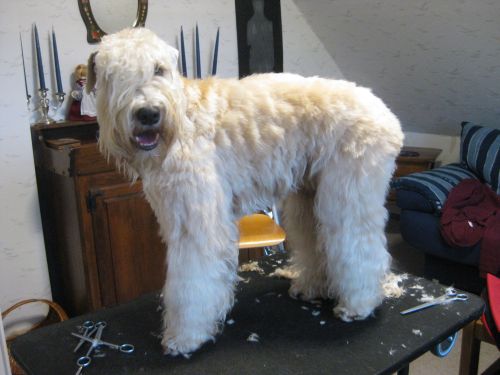 Hannover, Saturday: Special Klub für Terrier show. By the time my breeders got to the big hall, Mummy was shaking like a leaf – she was alone this time. I was in a bad mood and didn't even greet them.
Ex-Dad Achim trimmed some more and walked around the hall with me. I was friendlier by the time he took me in the ring. I got V1 and my third ribbon, both qualifications for youth champion again. That meant that I could get my 4th at the international show on Sunday, but then we heard that Sunday's Czech judge does NOT like fluffy coats like mine, only silky Irish; so we had no chance despite having no competition. She would give us SG (sehr gut = very good), which wouldn't provide my needed qualifications. Mummy decided to go anyway because we need the experience, she had already paid, and my godmother Uschi was going with us.
Hannover, Sunday: Mummy was much calmer, which was a good thing because SHE had to take me in the ring herself. Aunt Uschi looked after me and pulled the grooming table with all our junk on it. Mummy was free to look after her nerves.
We walked through the hall again and again and I said "Hi!" to every canine and a bunch of humans. One lady was a fabulous playmate and I jumped all over her every time I saw her all day long.
Finally it was our turn to strut our stuff. Since we were alone in the ring, Mummy told the judge, "I'm a beginner, Róisín is a beginner and we're scared!" Speak for yourself, Mummy! I wasn't scared! The judge cracked a smile. Then she ruffled my back and we knew what was coming: criticism of the fluffy coat. But no! She said my coat was trimmed wrong and it was a pity for such a "lovely coat". We did our rounds and the judge checked me out, even counting my teeth, and she shook Mummy's hand and gave us a ribbon. I didn't win against the best male youth, but we had our two last qualifications for youth champion. Within 4 shows within less than 3 months.
Aunt Uschi immediately sent Daddy a picture of me with my ribbon and he uploaded it on his FB page with a proud announcement. He was at the fair in Bremen so he bought me a gingerbread heart with "My Superstar" on it and hung it over my crate before I got home! Daddy called both national clubs and sent my 4 qualifications for each. He's going to frame my certificates and I even got a trophy!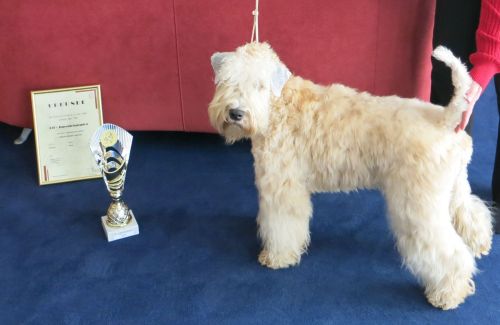 Enough catwalk! I have 3 vets' green lights for jumping so it's on to the agility ring and the dogwalk.